International School Program for Chinese children

I
. Brief introduction of TLBU and TLBU Global School
Situated in the Heart of Korean Waves, TLBU Graduate School of Law in Seoul has gained its global reputation as the leading professional legal educational institution, and TLBU Global School has been considered one of the best international schools for elementary school students and secondary school students in Korea. Besides these two schools, TLBU also has other sister organizations, such as TLBU institute in Paris, TLBU Foundation in Washington DC and TLBU Foundation in New Jersey. TLBU's official language is English and accordingly, all of the classes are administered in English as well.
With the development of TLBU and the relationship between China and Korea, TLBU Global School is seeking to expand its student's scope to Chinese young students in order to educate more future leaders for East Asia.
II. Features of TLBU's Program
1. The unique educational ideas
The key concept for the 21st Century is "regional and global cooperation". As a professor of international law, the president of TLBU, Doc.LYOU Byung Hwa learned the importance of regional and global cooperation as the infrastructure of stable peace and prosperity all over the world.
President LYOU served as a diplomat for the Korean Ministry of Foreign Affairs prior to his appointment as professor of international law at Korea University. After extensive experience in diplomatic service, he was convinced that regional cooperation among Asian countries would certainly strengthen themselves within the international community, where Asia has not been concerned too much thus far. Educating elite students from various parts of Asia would be the starting point for Asian development, which President LYOU thinks new opportunities will followed.

2. Outstanding teacher resource for bilingual education
TLBU has one of the best teacher resources for bilingual education in Korea. Under the management of Principle KIM Mi-Haeng, who owns doctoral degree in Fine Art, the teachers have outstanding teaching achievements.

The teachers come from universities in Korea, USA, New Zealand, Canada and other states. They are experienced and skilled at teaching and also responsible for every child in TLBU GS.
3. Diversified Curriculum arrangement including class of etiquette and culture.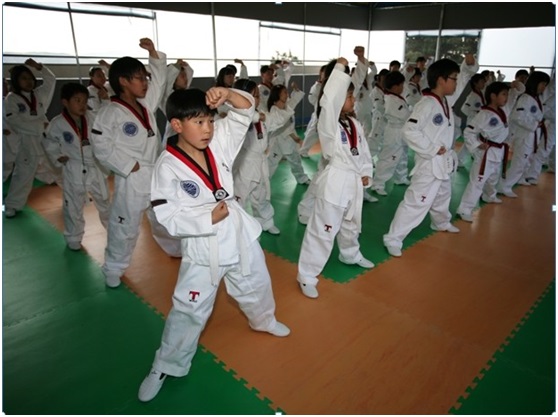 TLBU GS provides diversified curriculum to shape both the intelligence and sentiment of children. Reading, Writing, Math, English, Science, History, Sociology, Music, Art and PE are all provided. For Chinese children, Korean will be taught by special class to help involve in the Korean culture and society.
Studying in TLBU GS, the students are required to wear uniforms while taking class every day. Such regulations range from wearing uniforms, decent behaviors and so on, which are aimed at educating students in all aspects so as to help them become qualified leaders, who are supposed to be equipped with good etiquette, international civil sense and diversified culture.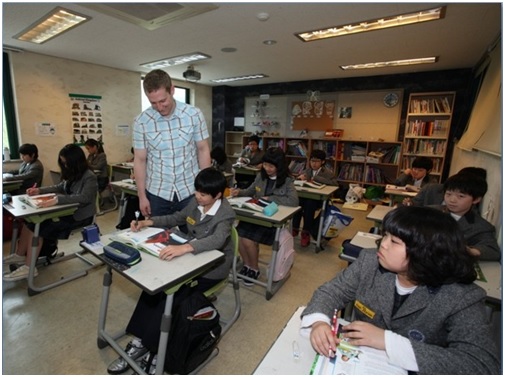 4
.
The chance to enter Top American Universities
through TLBU elite educational platform.
Since 2008, TLBU GS has educated a large number of qualified students with outstanding English ability, and helped them successfully apply for U.S. universities. Meanwhile, TLBU is preparing for the establishment of TLBU high school in the United State. With the full use of educational resources in the United States, students would gain deeper understanding of Western culture, which will do great help to their life in USA.

In addition, TLBU has been working on fostering comprehensive abilities of students. Considering the application, experienced teachers will help for the whole procedure based on individual characteristics of students and the overall rankings of American universities. All these foresaid measures surely guarantee the admission rate and adaptability of student to the life in these universities.
5. The mentoring system - Top-notch TLBU students of law from various parts of East Asia as inspiring and caring mentors
TLBU Graduate School of Law in Seoul provides special educations only to the best and top-notch law school graduates from East Asia. Considering China, the graduates are from Peking, Tsinghua, Jilin, Wuhan, Fudan, and CUPL.

TLBU Graduate Students offers exciting programs such as Model UN, Moot Court, and Model International Trade Conference. (TLBU graduate students part-taking in the programs are elite lawyers from China, Vietnam, Cambodia, Indonesia and Laos, who will be available 24 hours a day to young students in TLBU's program as qualified teachers, mentors and caretakers).
6. TLBU Field Studies in Korea, USA or France – Approach to the world-wide famous universities.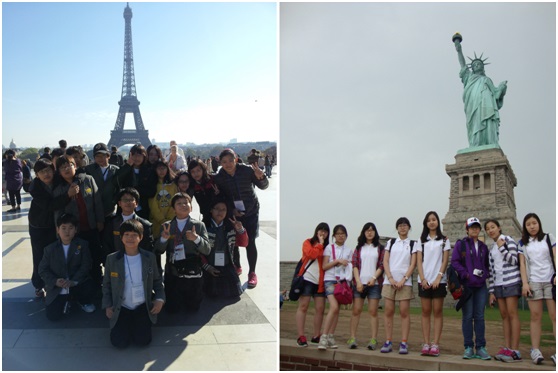 ith its global sister organizations, i.e., TLBU Institute in Paris, TLBU Foundation in Washington DC, TLBU Foundation in New York/New Jersey, TLBU seeks to provide two weeks of special educational opportunities to young students to learn English, global leadership, global culture.
TLBU annually organizes students a visit to world-wide well-known universities in Korea and USA, such as Seoul NationalUniversity, Korea University, Harvard and MIT. Exposure to the atmosphere of such school helps student set up lofty ideas and start from diligent study now. At the same time, TLBU has good coorperations with those schools so students can fully enjoy use those precious educational resources.
7. The participations of international organizations.
Students of TLBU GS have the chance to the field visit to international organizations located in Europe. Like International Court of Justice (ICJ) in Netherland, World Trade Organization (WTO) in Switzerland and United Nations Educational, Scientific and Cultural Organization (UNESCO) in France. This kind of field studies is not common among other global schools, which is good for the foster of international citizen.
III. Information
Participant: Age group from Grade 5 (elementary School) up to junior high school level
Duration of the Program: 2 semesters one year for one grade
Date: Sept. 1st , 2014
Accommodation: TLBU Graduate School of Law in Seoul
Fees: See in Application procedures
Admission Chief for China:
Ms WANG Ruiping
Born in 1979
Committed herself to the research of Buddhist books and the traces of Buddha.
Possition: Member of Board of Directors
Contacts:
A. Beijing Office:
Beijing CBD Center Guanghua Road and Jintong East Road Wangzuo Center F60
+86 010-52078052
+86 010-52078053
B. Seoul Office:
TLBU Graduate Schoolof Law in Seoul, 300Naeyu-dong, Deogyang-gu, Goyang-si, Gyeonggi-do, Seoul,412-751, Republic of Korea
+82 31-960-1100
+82 31-960-1101
Application procedure and form: Link