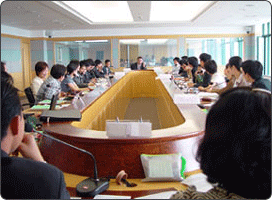 Our aim is to educate and train potential leaders of the 21st century, from among the graduates of the top law schools in East Asian countries. TLBU will not just equip our students with knowledge on practical law but will also offer specialized programs with an emphasis on ethics & social responsibility. We trust that through education of potential leaders and the provision of opportunities to meet and share thoughts with other potential leaders, will unquestionably contribute to the future establishment of a regional community in Asia. We are confident that global peace and prosperity can be achieved through such reinforcements of regional cooperation.

TLBU System is composed of the TLBU Graduate School in Seoul, TLBU Institute in Paris and the TLBU Law School in Maryland, USA. TLBU Graduate School in Seoul has operated since March 2001. About fifty (50) top qualified students representing the various countries of East Asia were admitted, and participated in the academic year 2001.

TLBU Institute in Paris offers practical field training to the students on European cureture International Organizations and the European Community Law. TLBU Foundations in New York and New Jersey and Washington DC and their educational instutions will provide both financial and educational support to the selected students among the graduates of TLBU Graduate School of Law in Seoul.